"What is wrong with me"?
It's a question we have all asked ourselves from time to time.
"Did I say that out loud, or just think it?" "Did I say that in a normal speaking voice, or yell it and everyone is just being polite?"
Such little queries are often a constant companion. Some people ignore them, while for others these insecurities can consume them.
For the most part I am happy with who and what I am, but that doesn't mean I don't have the occasional self-audit, or review / revision.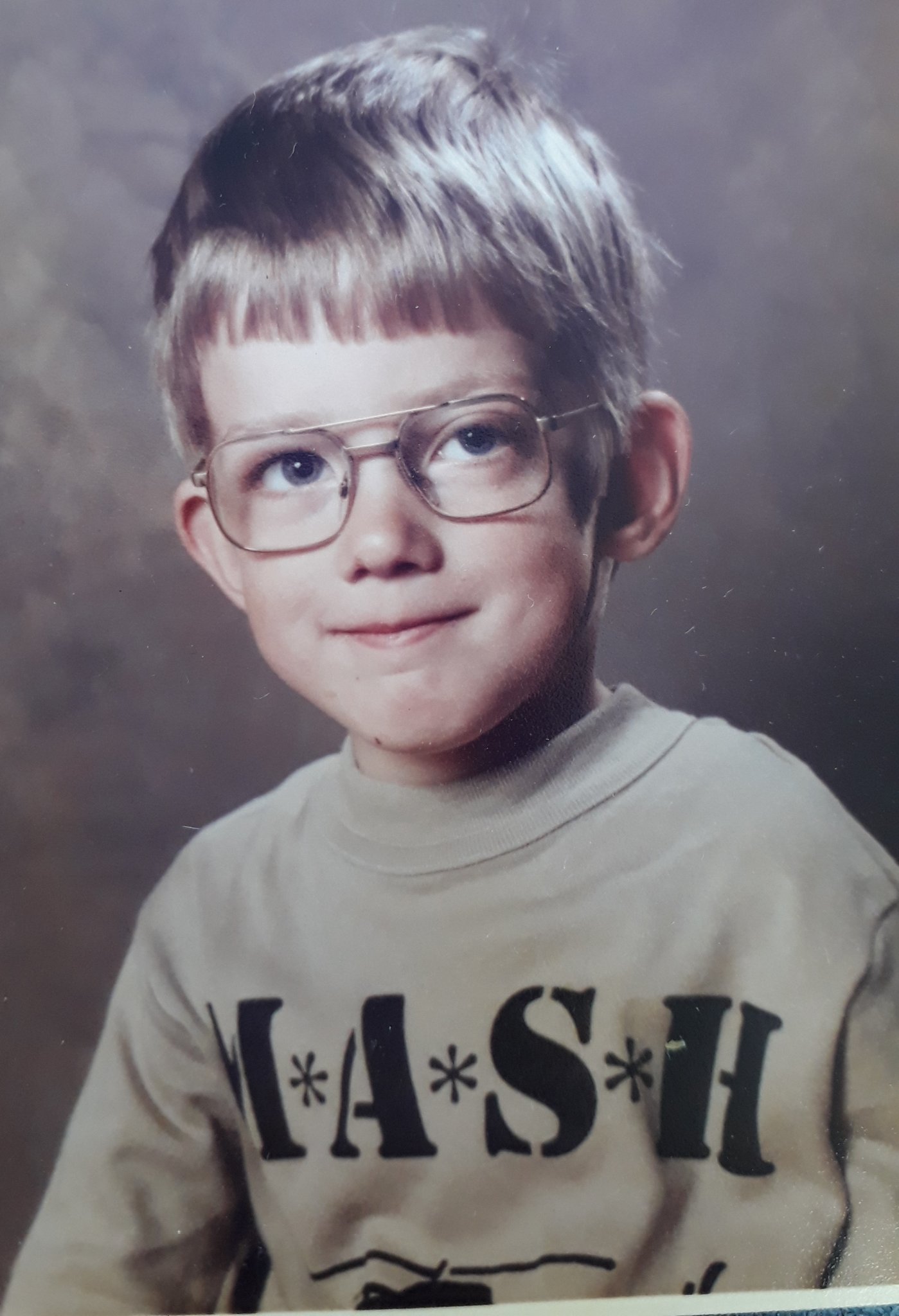 Fortunate Son
My Mum and Dad had me quite late in life – Dad was 42, Mum was 37.
"Spinster" was what was written in the "occupation" section of Mum's section of their marriage certificate the year before I was born.
"Spinster"?!
Try calling a 30-something woman that today and see how many stitches you end up with!
"Dowager Countess" must have already been taken in 1976.
This was the late 70s and a lot of the old attitudes and medical practices were still forefront. With my mother being an "older woman" there was a heightened chance I would be born with some form of disability, like Down Syndrome. Except they didn't use that correct, technical name back then, they used the term "Mongol".
I apologize for using that expression – I despise it, but I only used it to illustrate that it was something I was reminded of rather frequently for some odd reason. "You could have been a Mongol Child".
My mother made a friend in the maternity home who had twins the day after I was born. One of those twins happened to be born with Downs Syndrome (and would later attend the Special Education unit at the same high school I went to), so maybe that was just some sort of constant reminder, or little voice of "what could have been" in my Mum's head.
There were some worried moments when, as a child, I appeared to have a larger than normal head that required a trip or two up to Auckland Hospital for scans. But, as it turned out, it was just aware of how big I would be later in life and was getting a head start (ba-doom-tish!) on proceedings.
I grew up what generally qualifies as "normally" for an only child in the 80s – a time I remember very fondly, if not being quite lonely.
As I've written before television and my toys were my main friends early in life.
Big Bird and Oscar the Grouch influenced the levels of light and darkness in my world outlooks and the level and range of NZ-made television in the 80s inspired me to want to do it myself one day. It declared "We are New Zealand! We are stunning and capable of awesome things!"
School brought new challenges, but also new outlets.
As an only child you can become quite independent (you generally have to be) and very creative thanks to using your imagination to keep yourself busy or entertained most of the time.
It also meant I was a sponge for knowledge – I read and watched and listened to anything I could to keep myself amused, informed, or busy. I was a bit of a swot. It would pay off later in life when it came to quizzes, though.
My creativity took the form of writing (does it show?) and performance (mainly pretending to be presenting my own TV shows), things I excelled at until I discovered girls and those little queries started to speak up, making me think there might be something "wrong" with me.
Achey, Breaky Heart
I was a hopeless romantic when I was younger.
Well, "useless" would be a more accurate description.
I wouldn't so much as hold a girl's hand (other than when they had to in "social dancing" sessions of PE in high school..) until I was 21 and it was not for lack of trying!.
I shed numerous tears wondering why I was "unlovable" from Tamatea Primary School, right through to Tamatea High where I was sweet on several girls who had no interest whatsoever in this rather odd, tall, gangly young fellow.
Perhaps the loneliness of only child-ness had just had enough, or maybe all the reading, watching and imagining had set too high a bar?
I'd read many books and watched many shows and movies about "true love" and "star-crossed lovers".
I adored the romanticism of movies like "Four Weddings and a Funeral", but was also somehow convinced I would be the one who "loved and lost" like Tom Hank's character's back story in "Sleepless in Seattle".
John Hannah's recital of W. H. Auden's "Funeral Blues" in Four Weddings was just so accurate and so heartbreaking. I included it as a reading at my Dad's funeral.
I "tried too hard", apparently, or "didn't try hard enough", or maybe it was just different mindsets? With having older parents and values perhaps things just wouldn't align.
I've used the expression that "I think I was 35 for about 25 years" because it wasn't until that age, by which time I was married and a new father that women seemed interested in me at all.
By then it was too late, of course, because my heart belonged to one lady and my soul to another tiny, new lady.
It just so happened that my engagement ring was The One Ring from the Lord of The Rings movie trilogy, but rather than putting it on making the wearer invisible, mine made me finally visible to the female populace.
Foreskin's Lament
"Unique" is probably the best word to describe me throughout my schooling.
"Tall" was another.
"Awkward" and "Dorky" would rate up there too. Basically any John Hughes era movie stereotype that wasn't "Preppy", or "Jock".
My 90s New Zealand high school experience was nothing like those movie stereotypes, thankfully.
I was discussing the experience with a fellow old classmate a few months ago and we decided than, while there were still the general "Sporty" kids, the "Munters" and "Cool / 90210" kids at Tamatea High School from 1991-1995, there was nowhere near the level of extremity or tribalism you stereo-typically see in most (American) media of the time.
There was no hatred of different types. We all, by and large, got on and accepted each other, because these were still the same people you had spent the last 5-12 years going through school with.
I don't think I ever fitted into any of the specific stereotypes, though, just floated around the periphery, occasionally temporarily osmosing into one cell or the other.
And I liked that uniqueness.
Maybe it was the only child thing – independence, or one's self was the only thing I could totally rely on.
But it led to a moral conundrum: What am I?
Who am I?
What sort of person do I want to be?
I wanted to be my Dad. He was (and still is, even though he's gone) my hero.
I was never the outdoorsy, or jack-of-all-trades type of person he was, but his moral compass always pointed true north and that's what I aspired to.
In fifth or sixth form we did a school play (see, STILL love performing!) called "Masquerade" – A big, song, drama and dance production about the masks we put on in life (just add teenage angst, stand back, cover your ears and brace for the shock wave).
One of the older students (It must have been 5th form, because I'm sure he was a couple years older than me) named Christopher Dann did a rendition of "Foreskin's Lament" that was just captivating.
Chris was one of the students (I think he was Dux of his year) who was bound for great, oratory things – Either a lawyer, or investigative journalist / breakfast television host.
I still hear him delivering those last lines:
"What are ya?

What are ya?

WHAT ARE YA?!

<lights cut to black>"
I find myself asking myself that same question time and time again.
A self-audit.
So.
"What are ya?!"
What Am I?
Tall. There is certainly no denying that. 6'8″, or 2.04 meters in metric terms.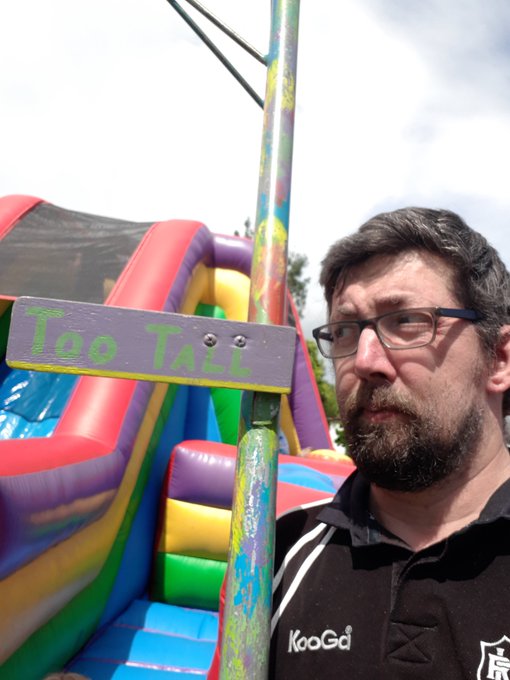 This can make some things difficult: Legroom in cars and planes, long pants and big shoes can be difficult to come by.
While jeans that only come part way down your shins may be all the style at the moment they were the ultimate clothing faux pas when my growth spurts kicked into hyperdrive in the 80s and 90s.
Most people think doorways are my natural enemy and whacking my forehead on lower lintels is a concern. Not so!
As you get taller you learn to go through doors on the down-step, so if you do hit your head, it's right on the crown and snaps the head backwards with a bright flash of stars.
Shorter people will never know the struggle.
My height also means being an asshole is never really an option. (not that it was ever in my disposition to begin with) – it's not like I can easily hide away.
I prefer to be a BFG – a Big, Friendly Giant!
I smile at people in the street, help old ladies get stuff off the top shelves at the supermarket, that sort of thing.
"It's better to be "always remembered" than "never forgotten"."
Dad. The only thing I wanted to be in life was a good a father and husband as my Dad was. He was kind and caring. He never swore at, or abused me, even when he was angry with me. He was calm, measured and understanding.
We struggled to become parents, having to go through IVF and certain things, like having a "Testicular Biopsy", were far from pleasant, but we got there in the end, and my daughter is the most wonderful girl and it constantly amazes me that she shares half my genes.
Maybe it's the idol-status I have for my Dad, but it does lead to a level of insecurity that I'm not doing a good enough job.
Losing my Dad soon after our daughter was born was a massive hit for me. He was my biggest, most constant supporter. When I lost him I lost a lot of my confidence, self belief and motivation.
I've had the positivity of our wonderful growing daughter to spur me on and focus upon, but I lost my safety net, my support network. That has been very hard.
I've made sacrifices for my daughter and family (more on that later, but that's just what a dad does, right?
I think my daughter gets a bit sick of me asking her if I do a good job, but the other day she said I was "the best Dad" when we were playing (no bribe or purchases required) so I guess I must be doing something right.
I can't go past a good #DadJoke, either!
Loyal and Dedicated. I look after my family, friends and those who do the same for me. I love my hometown and region – it's somewhere I've lived all my life, I love to see it thrive and succeed and want as many people as possible to know about it, so they can share the experience too. I do everything to the highest standard I can and see tasks through to completion.
While my cricket club recognized that this year, it's been sadly lacking for a long time in other places.
Fair. I've always had a strong sense of right and wrong, fair and unjust and always railed against things I thought weren't right. It has been a backbone of much of my writing and advocacy. I also believe everyone's story deserves telling, not just a select few.
Creative. Writing, pictures, videos, models, dioramas, and occasionally woodwork are all things I enjoy. To make, or recreate something is really fun and something I love doing.
A Would-be Hawke's Bay Media Magnate. I love writing. I love telling my own, others' and Hawke's Bay's stories, be in in a blog, a video, or radio/audio format.
I also have the voice (and face) for radio.
So What's Wrong With Me?
"For every action, there is an equal and opposite reaction"
Despite all those positives why can't I seem to be happy, or feel fulfilled recently?
I haven't had the easiest decade:
IVF, the birth of our daughter, the death of my Dad, buying our own house, a Global Financial Crisis, getting Mum into a care home, a month in hospital with a peculiar heart issue, Mum passing away, a world-wide pandemic, a growing child… Hardly a flat, calm sea!
Though, as someone pointed out to me years ago, life is like a heartbeat monitor – it's supposed to have ups and downs. If it's flat, you're dead!
Gallows humor, certainly, but clinically correct.
I like writing and promoting my region and, by general consensus I am reasonably good at it.
My writing has achieved me some minor local renown over recent years, though as a PR friend told me a couple years ago "You picked the worst time to be good at it" given how many in NZ's commercial news networks have preferred to gut local newsrooms and copy and paste irrelevant reckons from Auckland talkback radio hosts into regional mastheads as rage-click inducing "editorials".
Despite my best efforts over the years, I have yet to gain promotional employment here in Hawke's Bay, and whether it's just the pandemic, or current direction of content, but I've only been commissioned for one piece of local writing this year, not that I've had a whole lot of spare time, or motivation to write.
I'm taking what chance I have now to get some thoughts on the page, as I'm having a week off before the run into Christmas and am working the few days between then and the New Year holidays.
My broadcasting aspirations were dashed early last year with the loss of local cricket commentary opportunities and yet more centralized personnel resourcing, with the same people who do the rugby, Olympics, America's Cup, and all the other events out of Auckland given yet more opportunities to the detriment of everyone everywhere else.
What little exposure I had been very grateful to receive on Radio New Zealand's The Panel also quietly ceased last year.
As far as I'm aware I never said or did anything wrong on-air, or off air.
It's not like I used the platform to tout Covid conspiracy, or was eventually let go for leaking private patient details like one of their far more regular guests who was still on multiple times after I was given the heave-ho after only a few appearances.
I was told my removal from the Panelist lineup was because the broadcasting equipment from the Napier studio was redeployed so the network's presenters could work from home during the Covid lockdown in 2020 (and, no doubt, further extended lockdowns throughout 2021 in Auckland where many of them are now based). Water damage and repairs from Napier's flood in November 2020 also temporarily put their office out of action not long after.
However that didn't stop other Panelists from being on the show via phone, Skype, or other means.
While I am fully aware Hawke's Bay has some of the best internet coverage in New Zealand, it must have escaped their attention, until they had Janet Wilson beaming in across the broadband from Haumoana on the shores of Hawke Bay a few weeks ago.
Man, they must feel so silly…
But it's not just my creative aspirations, or dreams of local media stardom failing me this year.
After over 17 years of doing my day job, despite requests for advancement or training across multiple bosses going unheeded, I finally had the chance to apply for the position myself.
I was short-listed with the new office graduate, who has been with us for about a yearm for an interview.
Management chose the graduate, because they have a relevant university qualification – Something I have never been given the opportunity to do through work, nor the time with odd and early hours of employment, or money with a family and mortgage to do of my own accord outside of work.
All my writing and media-ing is something I have been able to do after-hours of my day job due to its odd and often early hours.
I call it "Breakfast Radio / TV hours, but without the fame or fortune."
It has provided a constant, secure income (throughout very insecure times) that has enabled me to support my family, buy a house, pay a mortgage and raise our daughter.
But now that she is getting older and more independent I feel like I can finally do something for myself.
The inability to realise my dreams, or even gain advancement where I have dedicated myself for years has made me feel like a failure, or that I'm being selfish or don't deserve to do what I want to do.
It's like the rejections and disappointments of my volunteering days coming back again, and they were devastating enough the first time.
I really am done with being constantly overlooked and undermined.
So what IS wrong with me?
It's not a lack of talent, or skill, dedication, or work ethic.
I'm tired and sad, but I am doing what I can.
I'm only human.