As you know, each year the Frame family have a tradition of making a 12 day menu plan mirroring the traditional and Kiwi 12 days of Christmas, but with added deliciousness!
I have joked that the traditional version contains enough birdlife (partridges, turtle doves, french hens, calling birds..) that it could almost warrant a "Twelve Days of KFC".
That gave me an idea:
Hawke's Bay is blessed with some of the finest food producers and hospitality venues in New Zealand. The regularity with which we win big national and international awards give a general idea of just how great they are.
In recent years the number and range of these businesses has exploded. Gone are the days of Fish & Chips being the sole variety of takeaways available in the region – A multicultural smorgasbord is now available in your city, your suburb, or just at the tips of your fingers care of apps and smart devices ordering online.
So I thought, "Hey, why not do a "12 Days of HB Takeaways" and try and see just how much of a range of pre-prepared food can be sourced in the region?!".
Now, I am based in Napier, as my brand suggests, so the majority of these will likely be Napier-based, simply because these are the takeaways I am most familiar with / have already brought from.
This isn't sponsored content.
None of the companies listed have paid or given me free food to do this – It's just something that I thought would be a cool idea and I thought they would be the most appropriate fit for their day / theme.
I believe in local Hawke's Bay businesses and love seeing them succeed!
While it was intended to be a "12 Days of Christmas" list (did you know the 12 Days traditionally starts on Christmas Day, and isn't actually a countdown to Christmas?) our regular annual "12 Days" list had a few hiccups and ran late, and with public holidays and different opening hours post-Christmas many of the places on my list weren't open on some of the 12 Days after, so while I'm keeping the Christmas listing format, It's essentially a 12 Days of Hawke's Bay HOLIDAY Takeaways.
I have mixed up the Traditional and Kiwi 12 days of Christmas themes to give some variety, make it a bit easier, and diverse. There's a good chance I may expand the list as other options arise, so come back and check it again at some later time.
So let's take it away, with 12 Days of Hawke's Bay Takeaways:
A Partridge in a Pear Tree / A Pukeko in a Ponga Tree = Hapi
In our usual "12 Days" menus day one almost always involves some for of vegetation or foliage – just like the Pear, or Ponga Tree.
Hapī Clean Kai Co-op is Napier's award winning, premiere venue when it comes to healthy and vegetarian food.
Recently relocated from their original takeaway bar site down the road to Chantal's shop on Hastings Street in Napier Hapī has gone from strength to strength and continues to gain in popularity with locals and visitors alike.
With healthy juices, vegetarian and vegan sandwiches and dishes, as well as sweet slices and, of course, coffee Hapī has become a go-to with those who want local "green" cuisine.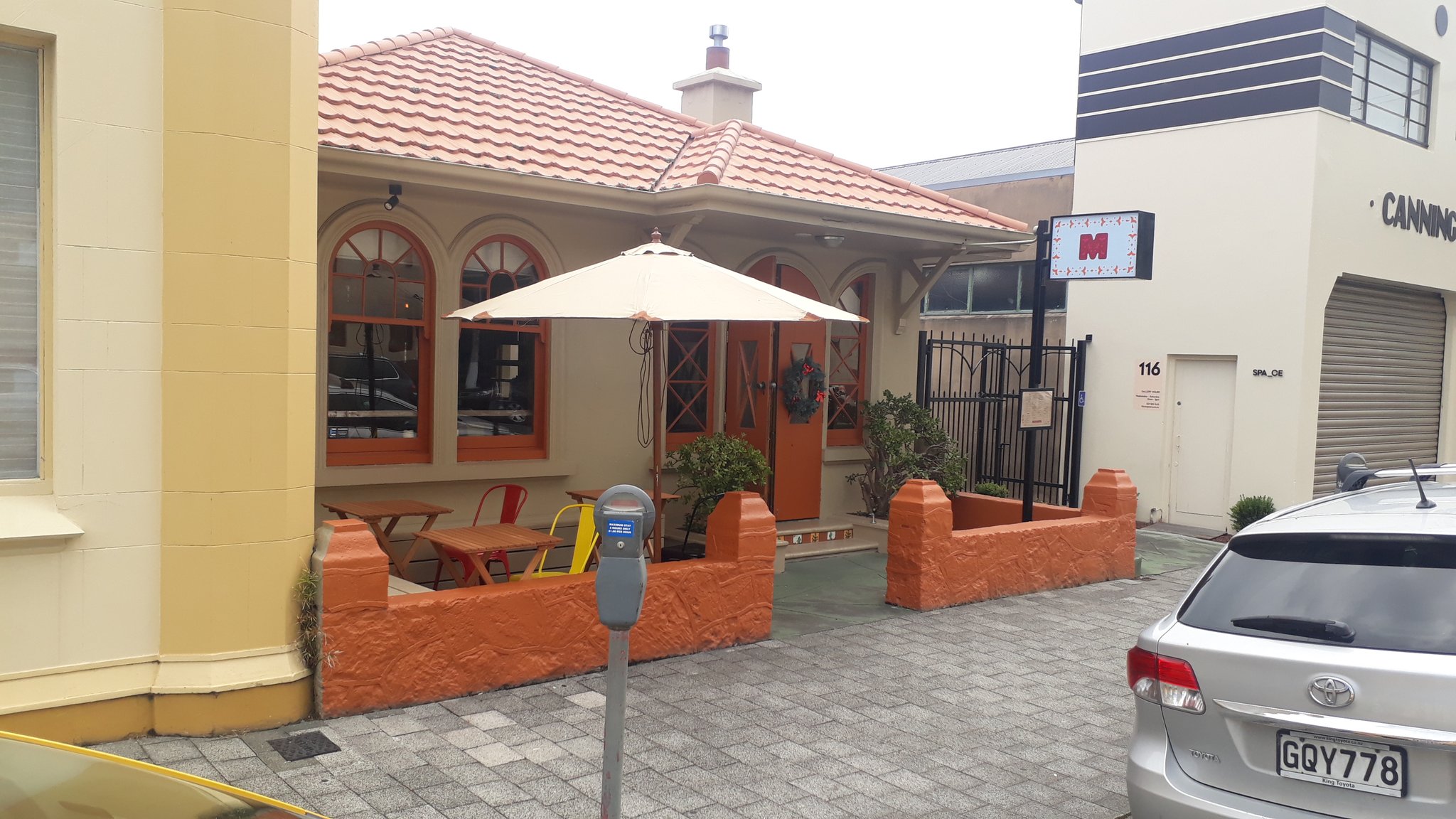 Two Turtle Doves / Two Kumera = Mamacita
A visit to Mamacita, located on Havelock Road in Havelock North and Tennyson Street, Napier on the second day of the week will be auspicious, as it's Taco Tuesday (*Available for Dine-In Only)!
Coming in hard and soft shell forms (like turtles) tacos are just one of the many options available from these favorite Hawke's Bay's Mexican restaurants.
Nachos, Quesadillas ("Quesadilla Thursday" is also available only for Dine-in), vegetarian and carnivore options with Ceviche, Camarones and Calamares seafood dishes available on their "Small Bites" menu.
Three French Hens / Three Flax Kete = Rock My Belly
"Chicken and Waffles" was something I had heard of repeatedly (mainly in American movies), but never tried. That was until we went to Rock My Belly, upstairs on the northern side of upper Emerson Street, Napier.
We are able to tick both theme boxes here with the French Hens AND the latticed Kete basket look of the waffles!
Southern Fried Chicken Waffles are a hit with Miss in Frame and I love the Chicken Curry Waffles.
The waffles themselves aren't as sweet as regular dessert waffles, the thought of which was initially a bit of a put-off, making a nice flavor and texture mix overall.
Rock My Belly's focus on great "comfort food" like this has proved very popular in the short time they have been open.
The chef's name is Andrew, too, so you know it must be good! 😉
Four Calling Birds / Four Huhu grubs = Tu Meke Don
Again with the poultry!
Tu Meke Don, in Napier's Ocean Boulevard (between upper Emerson and Dickens Streets) is run by Tim, Junko and their son Tane. It has been our go-to for Sushi for a number of years and a favorite for inner city workers and shoppers.
Their Karage Chicken in sushi, donburi, curries and just straight out fried is a personal favorite.
Five Gold Rings / Five Big Fat Pigs = Donut Robot
If five gold rings is what you're after you can't go past the delicious, crispy on the outside, soft in the middle, chocolate or berry-iced, custard filled, or just cinamon sugar dusted American-style donuts made fresh by Steve in his little "Toy Caravan"!
Donut Robot has been regularly stationed in the car park of St Paul's Church on the corner of Tennyson and Dalton Streets, Napier for a number of years and has garnered quite a cult status and large fan base. Not only a master donut slinger, Steve is also good for a chat about the day's local and inter/national events.
Six Geese a-Laying / Six Poi a-Twirling = Funbuns Pork Buns
A few years ago in our family 12 Days of Christmas Deliciousness we featured Tu Meke Don's Rice Balls as Poi a-Twirling, on a similar Asian food theme here I'm nominating Gua Bao (Steamed Buns) from Funbuns to represent the Poi on this list.
Funbuns, on the corner of Heretaunga Street East and Warren Street Hastings, is a place I have yet to get to, but really want to, as I have heard lots of great stuff about!
"Can recommend pretty much everything on the menu (cocktails are frisky-fresh too). Barman is a multi award winner at HB Hospo awards. Their 12hr beef shin sharing plate & Chinese fried chicken with black tea mayo are yum!" Yvonne Lorkin c/o Twitter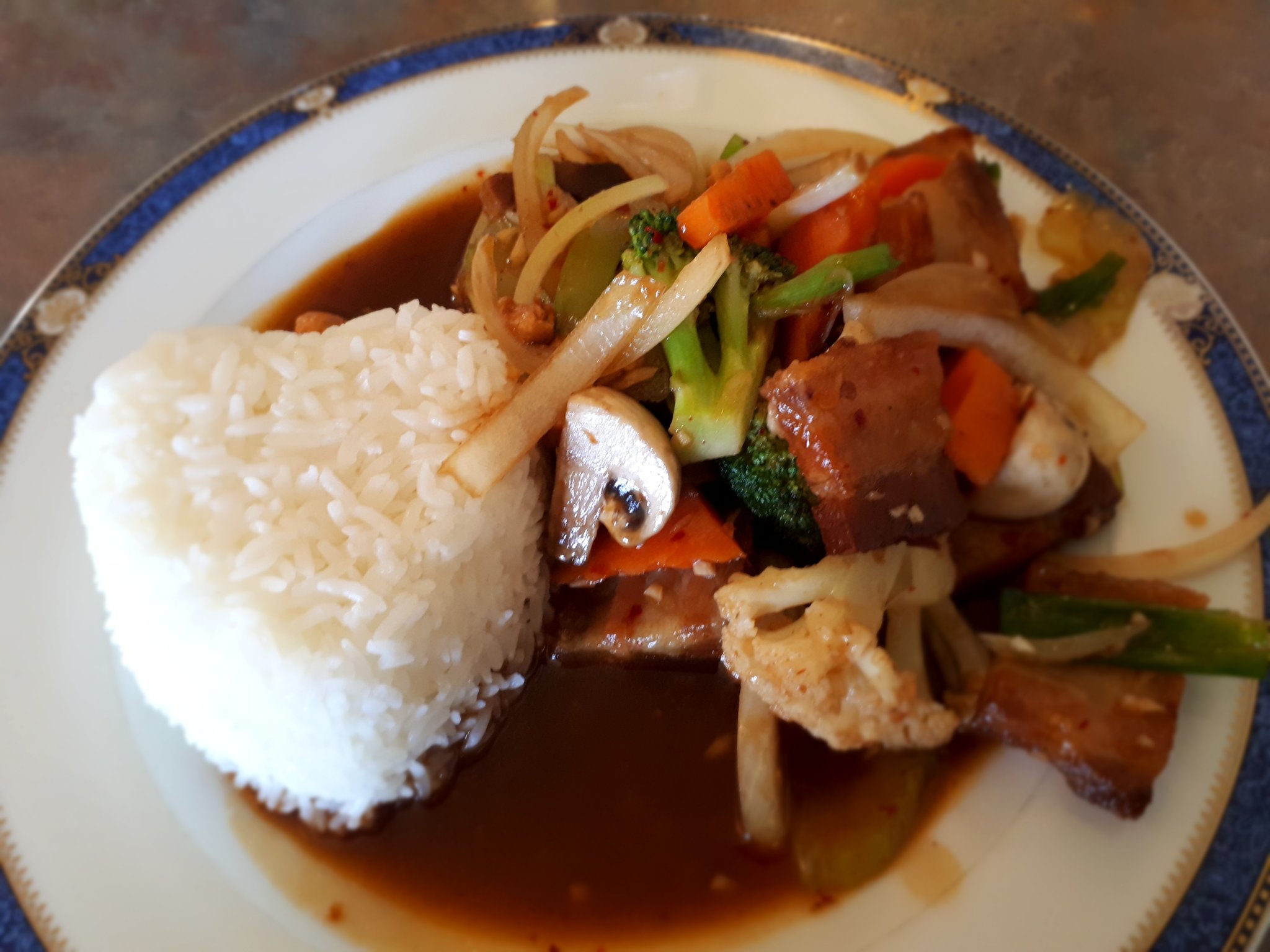 Seven Swans / Eels a-Swimming = Thai Lotus
Thai Lotus can be found right in the centre of the Taradale Shopping Centre. The building used to house the Taradale Library many years ago. Now it is home to delicious Thai cuisine!
With a wide range of stir fries, curries, satay, soups and more you're sure to find the perfect dish – it might even be eel-like noodles swimming in a delicious curry or cashew sauce!
Eight maids a-Milking / Eight Plants of Puha = Lick This
One of the best ways to cool down on a hot Hawke's Bay day is with something Maids a-Milking can directly contribute to: Ice cream!
Lick This, in the old Marineland grandstand building makes their own ice cream on site in a massive, regularly changing range of flavors. From standards like Chocolate and Hokey Pokey, to seasonal and special flavors like Christmas Cake, Unicorn and Bacon, Banana and Maple.
They also sell gelato and, local legends, Rush Munro ice cream.
Nine Ladies Dancing / Nine Sacks of Pipis = Six Sisters
There aren't quite nine of them, but they are all girls – Six Sisters Coffee House is in one Napier's most iconic non-Art Deco buildings on Marine Parade, just towards the hill from Lick This.
The story goes Napier's Harbor Master had six daughters, whom he had houses built next to each other for between Albion and Vautier Steets. These half dozen, two storey weather board buildings have become known as "The Six Sisters" and Napier's best Bacon, Egg and Pesto Bagels (in my humble opinion) can be found at the sister second from the left when looking at the houses from the sea side.
Lucy and her team of lovely ladies (there's about six of them all up, but they're not sisters) serve bagels, Napier's best coffee (again IMHO), scones, slices, biscuits, and smoothies looking out across Marine Parade to the stunning vista of Hawke Bay!
Ten Lords a-Leaping / Ten Juicy Fish Heads = Fish & Chips
It wouldn't be a list of Kiwi takeaways without featuring Fish and Chips! (I prefer fish fillets to fish heads, personally, but won't judge).
Napier is certainly not bereft of choice on this front, as I can think of at least three options within walking distance of my house alone!
Thank God its Fryday is my local in Marewa, but others like The Pirimai Chippy, Frying Dutchman and Charles Street Takeaway all have loyal followings.
Eleven Pipers Piping / Eleven Haka Lessons = Brave Brewing
It's not Highland bagpipes and single malt whisky, but Brave' Brewing's iconic trumpet does involve pipe work!
Fast becoming one of Hawke's Bay's preferred craft breweries, Brave Brewing opened their new tap room and beer bar in the former Herald Tribune newspaper precinct site on Queen Street East, Hastings in 2020, after the nationwide Covid lockdown to promote and compliment their onsite brewing operation.
During 2020 and 2021's Level 4 lockdowns Brave also took the initiative of delivering their beer direct to their customers around Hawke's Bay and New Zealand (as you can see in the pic above). Cheers for that!

Twelve Drummers Drumming / Twelve Piupius Swinging = Vinci's Pizza
One of Napier's newer, and certainly most popular takeaway joints is Vinci's Pizza at the cathedral / hill end of Hastings Street along from Hapi and Chantal.
What has made it so popular is that you can buy a single hot slice of their fantastic pizzas he perfect size for a snack or lunch, or buy a whole pizza which is about the size of a large snare drum! You can even mix it up and get a whole pizza's worth of individual slices
Each pizza is hand-made by Vincent and his team 9nsite and, as with the personal touch of the other hospitality providers on this list, the range regularly changes with seasonal specialty pizzas along with the traditional stylea of Margherita and Quatro Fromagio.
Just before Santa went on his rounds last week I bought a slice of Christmas Glazed Ham pizza -It was fantastic!
So there you go – just a slice of the potential ideas to take away from 12 Days of Hawke's Bay Takeaways – enjoy!
Perhaps it could be a New Year resolution to try thelist in the early days of 2022?!
If there are any local takeaways I have egregiously forgotten that fit into the 12 Days categories, please let me know and I can add them in.
Happy New Year!
AF